Vidiyal Foundation's founder A.Balaji comes from an underprivileged background himself, and it has been a lifelong passion of his to make an impact.
Balaji completed his college education with 50% scholarship support. That timely help from the college management left a lasting impression on his mind, and planted a seed inspiring deserving students, women and others to help those who need it the most.
Later in life, after securing full-time employment, Balaji came upon other selfless individuals, volunteers and donors who are eager to help but don't know how to help.
Even before starting Vidiyal Foundation, Balaji and his friends have been unofficially helping people in need by gathering donations from friends and family, and directly handing over funds to those in need of educational, medical, or other crucial help.
Balaji and Prasad used to volunteer at Cancer Trust, homes for the visually challenged, and other places both on their own as well as part of their employer's CSR efforts. This gave them the crucial context, contacts, and exposure necessary to bootstrap an organization and take it to operational success.
Vidiyal Foundation has helped 300+ students, 300+ visually challenged people, and dozens of women in need directly.
This is Balaji's lifetime passion project, and this was a crucial aspect when he went about finding a life-partner with similar priorities. Srividhya, who hence married Balaji, joined him on the board of trustees, as did Prasad's wife Preetha.
Together, the four trustees run a tight ship. They keep approval processes quick and easy, red-tape minimal, and do all the work themselves. They do not have any staff or office, and do not take any funds from donations, either as remuneration or to cover operational expenses.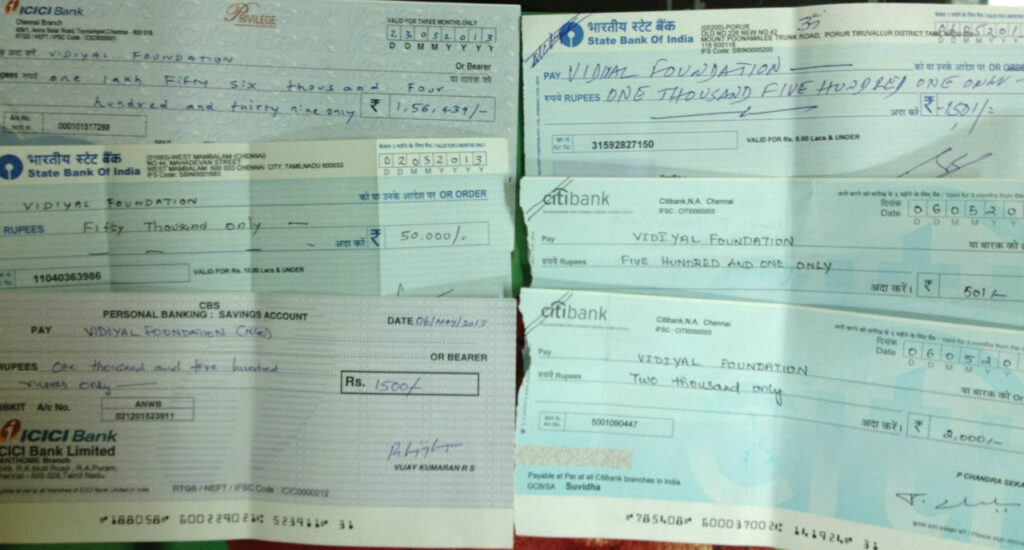 It is common practice for Indian couples to accept cash as a wedding gift. When Balaji and Srividhya got married, they decided to use all such cash gifts to use as one of the first major donations to the Foundation.
Our Friends and relatives contributed 2,15,291 rupees for our marriage and we are happy to say that we transferred the amount to "VIDIYAL FOUNDATION".
The founder and trustees plan to keep up this work, and manage to find time for it in addition to being employed full time elsewhere. They would like to thank all the donors and their families for their selfless support in this journey.